Day 1 Keynotes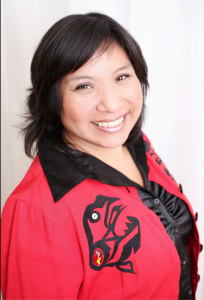 Opening and closing the conference with Waabishka Kakaki Zhaawshko shkeezhgokwe
(White Raven Woman with Turquoise eyes)
Wasauksing First Nation
Ojibway/Bodwewotomi Anishinaabe
Amy currently works at Ryerson University as the FNTI Coordinator of the Bachelor of Social Work program, offered in partnership with First Nations Technical Institute. She works with York University as knowledge keeper. Amy currently a board member at the Centre for World Indigenous Studies.
Amy has gained much experience working with Indigenous teaching styles from her work as Manager at Dodem Kanonhsa' Elders cultural lodge and recently expanded her knowledge in the field of education through contributions in research and teaching. She was a community member on Ryerson University's Research Ethics Board for three years. Amy was an assistant in research projects such as Thunderwoman Healing Lodge, and Canadian Association of Graduate studies "Imagining Canada's Research Future" Indigenous research round tables. In the Fall of 2015, she taught a Political process course in the Social Work stream at Humber College.
Amy has volunteered her time at the Toronto Birth Centre as knowledge keeper and has held positions in the community as knowledge keeper with the Toronto Indigenous Health Advisory Council (TIHAC) during the initial phase of their work in broadening knowledge of Indigenous community health in Toronto. In 2014, Amy published her first non-fiction full-length book, Starblanket – A mother's gift to her son. When she is not writing, Amy facilitates cultural workshops and drum circles. Amy is also a hand drummer and singer.
Rania El Mugammar is a Sudanese Artist, Liberation Educator, Anti-oppression Consultant, multidisciplinary performer, speaker and published writer.
As a writer, Rania's work explores themes of identity, womanhood, Blackness, flight, exile, migration, belonging, gender, sexuality and beyond. Rania's primary mediums are poetry, spoken word and oral storytelling. She is a published poet, storyteller and playwright. Rania is deeply interested in poetic form and the auditory texture of words as well as the visual/aesthetic impact of language and form.
She is co-chair of the St. Jamestown Collective Impact Steering Committee, a member of the Leaders Panel for the Economic Development and Culture Strategic Plan at the city of Toronto. Rania is the also the lead anti-oppression consultant for RECENTRE, Program director of B Inc at Bcurrent Performing Arts and co-founder of the How to be an Ally Series at the Centre for Social Innovation.
Rania is an experienced anti-oppression, equity, inclusion and liberation educator and consultant who is unflinchingly committed to decolonization and freedom as the ultimate goals of her work. She has worked extensively with contemporary arts institutions, STEM based enterprises, media organization, educational institutions and community/grassroots spaces. Rania has worked with hundreds of organizations, collectives and institutions including VIBE Arts, the Art Gallery of Ontario, the Ministry of Canadian Heritage, Daniels Spectrum, Trinity Square Video, Ebay, Facebook Canada, Toronto Cultural Music Lab, Canadian Art Magazine, Bcurrent, Toronto Arts Council, WattPad, Women's College Hospital, the University of Michigan, Canadian Art Magazine, TPW Gallery, Peel Dufferin Catholic District School Board, Regent Park Focus and beyond.
Jeewan Chanicka is the Superintendent Equity, Anti-Racism & Anti-Oppression at Toronto District School Board. His work is focused on embedding an anti-oppressive approach through structures that impact student achievement and well-being. Jeewan's past includes his work at the Ministry of Education in Ontario in the Inclusive Education Branch and prior to that, a Principal and teacher in York Region District School Board. He has consulted with the United Nations University of Peace as part of a team to develop a curriculum framework on Peace Education in the Islamic context implemented in various parts of the world. Jeewan is the recipient of the Queen Elizabeth Diamond Jubilee award for his work in Education and Community Service, and a Promising Practices award from the Character Education Partnership based in Washington DC, for the Helping Hands initiative. He recently received a Human Rights Award from the National Council for Canadian Muslims (2017) and the Mary Samuels Educational Leadership Award in Nov 2017.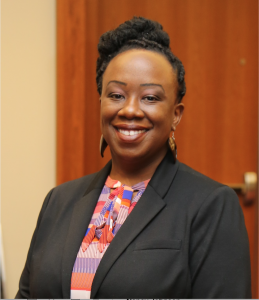 Natasha Henry has been an educator for 20 years. She is an award-winning author and an award-winning curriculum developer, focusing on Black Canadian experiences. Natasha is the president of the Ontario Black History Society. She is committed to anti-racism in her teaching practice and through the creation of accessible, rich content that supports the promotion culturally-relevant pedagogy and equity in classrooms, and through the professional development workshops and presentations she offers. Through her various professional and community roles, Natasha's work is grounded in her commitment to research, collect, preserve, and disseminate the histories of Black Canadians. Natasha Henry is currently completing a Ph.D. in History at York University, researching the enslavement of Africans in early Ontario.
Tina Lopes is an independent organizational development consultant, facilitator and mediator, skilled in promoting organizational change processes. Since 1990, she has focused on furthering equity and inclusion work with federal, provincial and municipal government departments as well as with child welfare agencies, school boards, health and social service organizations. She has extensive experience coaching senior and middle managers to integrate equity into core organizational policies and practices. In addition to advising institutional leaders on strategies for change, Tina educates and coaches senior managers to lead more effectively when contentious issues related to equity arise.
Over the years, Tina has conducted human rights investigations and assisted organizations to put in place effective policies and practices to uphold human rights in the workplace. With her colleague Charles Smith, Tina was appointed as a consultant to the Ontario Human Rights Tribunal and asked to steer a province-wide systemic change process to address racism in the Ministry of Correctional Services.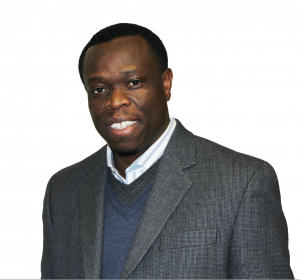 Statistician and Economist in a former life, Jhonel Morvan was a math teacher and department head for many years before accepting a position in 2009 as an Education Officer at the Ontario Ministry of Education where he's been working since. He holds a M.Ed. in Educational Administration from the University of Ottawa, an Honor Specialist in mathematics from York University, and both Principal's Qualifications. Jhonel has taught mathematics and French as a second language (FSL) at Wilfrid Laurier University anda master's level course on Issues in educational leadership related to mathematics at the University of Prince Edward Island. He is currently pursuing his Ph.D. in Educational Leadership and Policy Studies at Brock University. His research interest focuses on school leadership, inclusion, equity in mathematics, mathematics achievement of racial minorities, and teachers' expectations.
Nicholas Ng-A-Fook, Ph.D., Director of Indigenous Teacher Education, University of Ottawa. Dr. Ng-A-Fook is a first generation settler immigrant to Canada. He is currently collaborating with Indigenous and non-Indigenous scholars and communities to critically address how we might take up (or are not taking up) 94 Calls to Action within Teacher Education and the Ontario school curriculum.
Day 2 Keynotes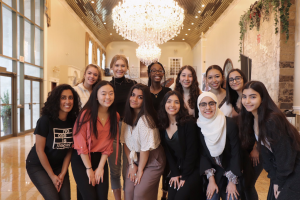 Student Panelist from Lorne Park Diversity Council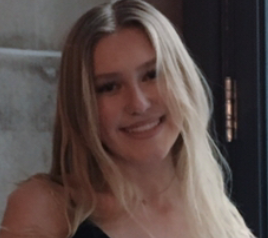 Megan Adams is a 17-year-old student going into Grade 12 at Lorne Park Secondary School. From a young age, she was passionate about social justice issues but wasn't sure how she could use her voice. In joining Lorne Park's Diversity Council and working with a dedicated team of peers, she has developed greater self-confidence through activism. As a white student in a predominantly white school population, she found strength in learning about the experiences of her peers who faced racial inequality and saw an urgent need for action. She is passionate about bringing light to the stories of those who have been silenced and is confident that this work will translate into changing systems of inequality beyond postsecondary education. Her examination of racial issues within the education system has fueled a desire to look at power imbalances within societal institutions and potentially study political science in her postsecondary years.
Seek discomfort. A saying that Iraqi, Leyan Al-Mashita, follows with or without choice (often the latter). Having to move because of war and culture issues two different times, she is not too familiar with the concept of comfort. In each place Leyan moved to, she had to learn a new language, adapt to a new culture, and make new friends. The one constant throughout all this change was her passion for justice. As a 16 year old entering her final year at Lorne Park Secondary School, Leyan has finally found the opportunity to shed light on the issues that have been buried, revealing them to those who can make the needed changes. The Diversity Council at Lorne Park Secondary School has offered Leyan inspiring and enlightening experiences and she is excited to continue to help the Council flourish.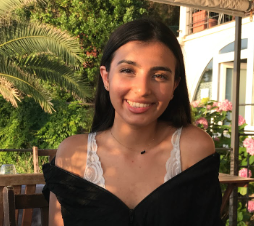 Yomna Al-Sharqi is a 17-year-old high school student attending Lorne Park Secondary School. She is a passionate member of her school's Diversity Council and is looking forward to co-presenting the following at FESI: Why We Rise: A Student-Led Professional Development Presentation for Educators. Born in Iraq and later immigrating to Canada, she has experienced racism throughout her life, as well as seen the impacts of the racialization of Islam. These experiences have given her a sense of responsibility to protect others facing similar challenges. Recently, she has chosen to pursue social justice advocacy work (with a focus on race) beyond the walls of her high school. Through her work with the Lorne Park Diversity Council, not only has Yomna been given the opportunity to make real changes at her school, but she has also been welcomed into a family of like-minded individuals who share her passion and drive. She feels honoured to be presenting with this group and is looking forward to making an even greater impact in the future.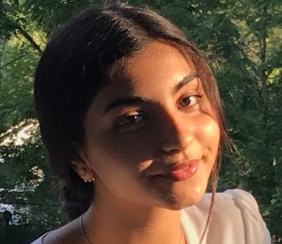 Yusur Al-Sharqi is entering Grade 10 at Lorne Park Secondary School. She has been passionate about social justice and inclusion since middle school, but entering a largely white high school has further opened her eyes to the importance of gaining knowledge surrounding social issues. Being an Iraqi, Muslim immigrant, she has witnessed and experienced the outcome of misinformation and ignorance. The Diversity Council has been a safe space for her to share her experiences with racism and Islamophobia, as well as to hear the stories of other students. Together they have worked to create a more inclusive and comfortable environment for students of colour. She is extremely excited and grateful to be taking the work of the Diversity Council outside of Lorne Park and hopes to continue this work in the future.
Maryam Dawood is entering Grade 12 at Lorne Park Secondary School. She has dedicated the past several years to identifying and addressing various forms of social inequality. At a young age, Maryam always felt as though her voice was powerful enough to initiate change. She motivates and inspires others through various forms of art, including poetry and music. Maryam lives by the idea that small actions contribute to greater change; she believes that every one of her social justice-related conversations, social media posts or presentations has the chance to positively affect at least one person. To combat one of her greatest concerns (racism), Maryam has partaken in the We Rise initiative at Lorne Park alongside her colleagues in the Diversity Council. Their extensive research, collaboration and willingness to learn about the struggles of Black youth in the public education system has given her new and important perspectives. Maryam has connected this work to her Law and Sociology classes. Maryam knows the future looks bright and wants to embark on a lifelong journey that revolves around equity and social justice.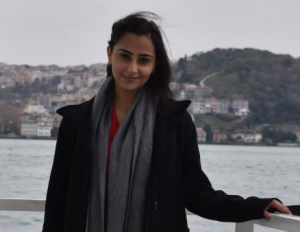 Mina Habaka is a Canadian student going into her final year of high school at Lorne Park Secondary School. Born and raised in Canada, Mina's family emigrated from Egypt in 2000. Throughout her student life at a predominantly white high school, Mina has observed and experienced racism and Islamophobia first-hand. Through personal experience and witnessing the representation of certain marginalized groups in the media, Mina feels a great need for work that provides equitable opportunities for all. Recently, Mina completed an independent Sociology project that examined the beliefs surrounding reverse discrimination – whether it is a myth or a reality. After conducting thorough research, which included having multiple online and face to face conversations with peers, Mina's drive to combat anti-Black racism has increased. In the past year, Mina has felt as if she has found a purpose through her school's Diversity Council and her We Rise Together research. Mina believes that she has been blessed with an amazing opportunity in being able to conduct and present this research. She is now inspired to pursue a life-long career on equity and social justice.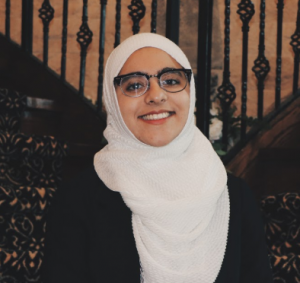 Mahnoor Khan was born in Toronto, Canada after her family immigrated from Pakistan. She is going into Grade 12 at Lorne Park Secondary School. As a Muslim hijabi at a high school not known for ethnic diversity, Mahnoor has personally experienced and fought a lot of stereotyping and racism related to Islamophobia. Throughout high school, Mahnoor has examined multiple racial issues that result in some students feeling an imbalance of power between themselves and staff, a decrease in comfort, and an increase in ignorance. She felt the need to make a difference in the education system by joining the Diversity Council. This gave her the opportunity to contribute to the We Rise Together action planning at her school. Mahnoor engaged in research and co-presented, along with other powerful and motivated students, to her school staff and other educators from the Peel Board. This work has introduced her to various new perspectives. Ultimately, Mahnoor hopes that through bringing people together, raising awareness about racial discrimination, and encouraging racialized students to make their voices heard, this will have a significant impact on the future of education and society.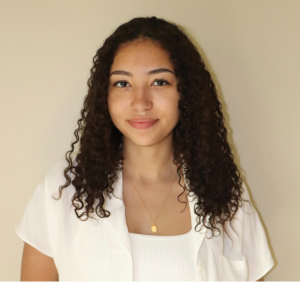 Elena Lawton is a 17-year-old student at Lorne Park Secondary School. Born in Canada, being of half Jamaican and half Canadian descent, she has always been passionate about bringing awareness to issues of racism that exist locally and worldwide. By joining her school's Diversity Council this past year, she was given the opportunity to become part of the We Rise Together initiative at her school, alongside a group of equally passionate and driven students. Within the presentation at FESI, she will include work from an independently conducted Sociology assignment, which sought to both bring awareness to and better understand the effects of racial stereotypes within the Lorne Park community. She has co-presented on We Rise to various Peel staff, including those at her own school. Recently, she has been focusing on developing social justice presentations for fellow students. Her involvement with the Diversity Council gives Elena the chance to speak about things which she feels are incredibly important — and it also provides a sense of tangible accomplishment. She feels that this work has already begun to have an impact on her school community, and is looking forward to continuing it in the future. 
Lisa Ongendangenda is a 16-year old student at Lorne Park Secondary School. She joined the Diversity Council in 2017 because of her passion for raising awareness about racial issues and the ignorance surrounding them at her school. She had been the target of racial insults and slurs and knew that there was a serious need for change. Lisa wanted to use her voice to change the experience for other Black students. That year, the council celebrated their first recognizable Black History Month and it had a great effect on the school. This year, Lisa became co-president and participated in presentations, movie screenings, and other endeavours intended to increase an understanding and acceptance of diversity in the school. Lisa has always had a passion to combat the struggles surrounding race and will continue to use her voice to speak up for what is right.
Janice Ryoo is a 17-year-old student currently attending Lorne Park Secondary School. She was born in Canada and raised by parents who immigrated from South Korea. From an early age, throughout her personal and academic life, she has witnessed the oppression of racialized and marginalized peoples. This has led her to realize that there is a need for great equity education. She is passionate about bringing awareness to these subjects and navigating the ignorance that surrounds them. With this desire, she joined the initial research team that produced Why We Rise: A Student-Led Professional Development Presentation for Educators. Alongside other hard-working students, she was given the opportunity to deliver this to various educators in the Peel Board, including teachers and administrators at her own school. This work has given Janice an even greater desire to further pursue social justice work involving anti-Black racism and speaking in solidarity with those who have been silenced. She is excited to see what the future holds for We Rise and feels honoured to work alongside her dedicated and driven peers.
Danielle Venchiarutti is entering Grade 12 at Lorne Park Secondary School. Throughout her life, she has always been concerned about the wellbeing of others. From an early age, she learned about the harshness of humanity; while this depleted much of her hope, it also sparked in her a deep desire to take action. Danielle has witnessed racism and ignorance in countless circumstances, including in the predominantly white high school that she has attended since Grade 9. She entered this environment while learning more about social justice issues; this gave her a clearer insight into the challenges that many of her peers are facing, and will continue to face if the world continues this way. Ready to take action, she joined her school's Diversity Council. She is grateful to participate in this beautiful work with an incredible group of students. The Council serves as Danielle's main provider of hope for her generation and a reminder that there can be peace and love in the world. It has gifted her with a strong passion that can never be weakened.
Monika de Souza has been a teacher of English and Drama with the Peel Board for the past 14 years. She served as Staff Advisor to the first Black History Month Club at Mayfield Secondary School. Around this time, Monika's colleague Melanie Barrett introduced her to the idea of building more equitable classrooms through adopting anti-oppression practices. In doing this work, Monika has experienced significant personal discomfort and unprecedented connection and solidarity with many of her students and coworkers. Over the past two years, she has supported the brilliant work of the Diversity Council at Lorne Park Secondary School. In June, she received a Loran Teachers Building Leaders Award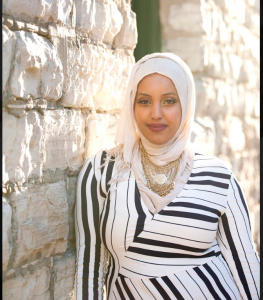 Timaj Garad is an Ethiopian Toronto-based multi-disciplinary storyteller., Arts-Educator, Community Organizer, and Creative Consultant. Her art is autobiographical, working at the intersections of a black Muslim woman challenging injustice, unearthing truths, and healing. As an award-winning Artist & Educator, Timaj has graced over 250 stages and facilitated several arts-based workshops.
She is currently living in Toronto, sharing her poetry on stages across the province, continuing to organize art events, and working on her debut album 'Blooming at the Mouth' to be released in Fall 2019. Timaj believes in the transformative power of the arts to build capacity and strengthen communities. You can follow her work at timajgarad.com  Social Media: Instagram ✦ Facebook Page ✦ Twitter