Amy Desjarlais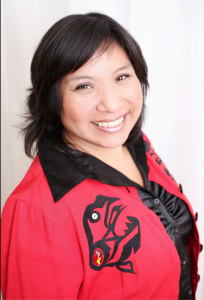 Opening and closing the conference with Waabishka Kakaki Zhaashko shkeezhgokwe (White Raven Woman with Turquoise eyes)
Wasauksing First Nation
Ojibway/Bodwewotomi Anishinaabe
Amy currently works at Ryerson University as the FNTI Coordinator of the Bachelor of Social Work program, offered in partnership with First Nations Technical Institute. She works with York University as knowledge keeper. Amy currently a board member at the Centre for World Indigenous Studies.
Amy has gained much experience working with Indigenous teaching styles from her work as Manager at Dodem Kanonhsa' Elders cultural lodge and recently expanded her knowledge in the field of education through contributions in research and teaching. She was a community member on Ryerson University's Research Ethics Board for three years. Amy was an assistant in research projects such as Thunderwoman Healing Lodge, and Canadian Association of Graduate studies "Imagining Canada's Research Future" Indigenous research round tables. In the Fall of 2015, she taught a Political process course in the Social Work stream at Humber College.
Amy has volunteered her time at the Toronto Birth Centre as knowledge keeper and has held positions in the community as knowledge keeper with the Toronto Indigenous Health Advisory Council (TIHAC) during the initial phase of their work in broadening knowledge of Indigenous community health in Toronto. In 2014, Amy published her first non-fiction full-length book, Starblanket – A mother's gift to her son. When she is not writing, Amy facilitates cultural workshops and drum circles. Amy is also a hand drummer and singer.